Brooks: Bucs Have A- Draft
May 15th, 2014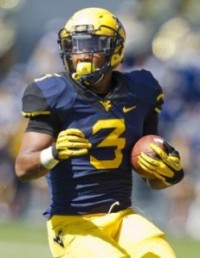 The Bucs have won another springtime division title!
As 2014 NFL Draft grades pour in from various NFL analysts, the Bucs continue to get high marks — this time from an NFL Network draft guru.
Bucky Brooks, one of three full-time NFL Network draft analysts, says the Bucs did best among the beasts of the NFC South, Atlanta, New Orleans and Carolina
TAMPA BAY BUCCANEERS: Buccaneers newbies Jason Licht and Lovie Smith were expected to focus on building a defensive juggernaut in Tampa — based largely on Smith's reputation as one of the game's top defensive minds — but the Bucs are quietly constructing an offensive powerhouse. The team added some basketball-type athletes on the perimeter, using their first two picks on receiver Mike Evans and tight end Austin Seferian-Jenkins. Both guys are red-zone weapons with the size, strength and ball skills to overwhelm undersized defenders near the end zone. Throw in Sims' diverse skill set, and it's not hard to envision Tedford creating matchup problems all over the field. After finishing at the bottom of the league in total offense last year, the Bucs now have the potential to make a major turnaround in 2014. For that, Tampa's draft effort deserves top honors from evaluators. GRADE: A-
Brooks' best point is the "matchup problems" the Bucs will create for defenses. That's undeniable. If the Bucs can pass block, there's going to be some pain inflicted on the NFC South.  You can read the full division breakdown by clicking above.
As is Joe, Brooks was impressed by the Saints adding speedy receiver Brandin Cooks in the first round on the heels of coughing up speed-in-space legend Darren Sproles to the Eagles for a fifth-round draft pick.