"Be A Man," Says Anthony Collins
May 2nd, 2014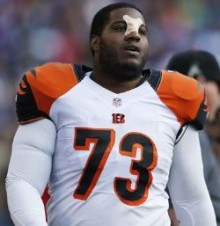 There's a decent chance the Bucs could draft an offensive tackle like Jake Matthews with the seventh overall draft pick next week.
But then what? Would Matthews, new left tackle Anthony Collins or Demar Dotson move inside to fill one of the Bucs' apparent holes at guard?
That's a great question. Transitioning to guard from tackle is hardly easy. But Collins thinks it might be. There's one major criteria, so he told reporters this week at One Buc Palace.
"Be a man. First off, you gotta be a man," Collins said of tackles having success moving to guard. "You know, a lot of people is not comfortable at that position. I'm very comfortable. Because first off you have to be a man, and you can prove it. Down in them trenches you can't be soft. So once you be a man, everything else will fall into place."
Collins is used to playing all over the offensive line, like he did for the Bengals. And hey, if the Bucs want to pay Collins like a starting left tackle but play him inside, then Joe's sure Collins will have no problem with that. Joe thinks Dotson is less likely to be a guard candidate given his 6-9 frame. Staying low like guards especially have to do, is not be his strong suit.
Of course, there's always a chance the Bucs would play their rookie stud tackle at guard — if he's "a man" — but Joe doubts that would happen.
In the dreamers' world, Carl Nicks returns healthy. Jamon Meredith gets back to his strong 2012 form, and the Bucs find a versatile, tough Jeremy Zuttah type lineman in, say, the third round — a guy who could compete this year and be a good starter next season. Of course, they could have just kept Zuttah, but that's a whole different discussion.
You can listen to all of Collins below via 620wdae.com