"Absolutely" Mike Glennon Could Start
May 27th, 2014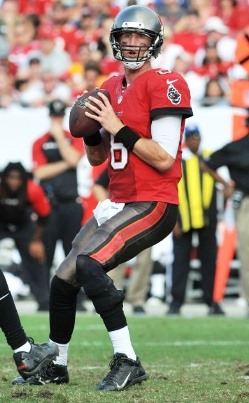 The way things are going around One Buc Palace, Joe is starting to smell something, and no, it's not just the sweat from some of the best football players in the world working hard. No, Joe is smelling quarterback competition.
Yes, Bucs coach Lovie Smith has called Josh McCown his starter. Last Joe checked, it's May. Lovie detailed why All-World cornerback Darrelle Revis would play on his defense, and hours after mattress-in-the-front-yard receiver Mike Williams took a blade to the thigh, Lovie also said he wouldn't move Williams for being a victim.
How did those proclamations work out?
Listen to Lovie and he will talk about how much he loves McCown. He will then also declare that Mike Glennon is the quarterback of the future. But what future? When?
So, given Lovie's recent proclamations, and how he insists the time to win is now, if Glennon outperforms McCown this summer, would Lovie hesitate to pull the trigger on Glennon as the Bucs starter?
Appearing on "Sunday Sports Extra" with local raconteur Dan Lucas, seen on WFLA-TV Channel 8 Sunday night, Woody Cummings of the Tampa Tribune said he believes there is a very real chance the Bucs could promote Glennon to the first string this season.
"I tell you what, I have been asked this a few times on Twitter and through e-mails, 'Is there a chance Mike Glennon starts this year?' Absolutely, there is," Cummings said. "If Josh McCown gets hurt, No. 1, they will go to Mike Glennon. And if [McCown] falters at all, you will see Mike Glennon in there. It might be Week 4 or Week 5. I don't think that is a concern for the Bucs. I think they will feel very comfortable going to him if they have to."
The key thing to remember here is that McCown's contract is only guaranteed for one year, this season. So it is not like there would be a whole lot to lose if McCown falters.
Let's just say that Joe actually expects a quarterback competition this summer at training camp, roughly 60 days away. Lovie always says he loves McCown, but Joe has a hunch Lovie loves wins more than he loves any player.
 Joe knows one former Buccaneer who also believes there will be a quarterback competition.