"A Linebacker-Mentality Coach"
May 20th, 2014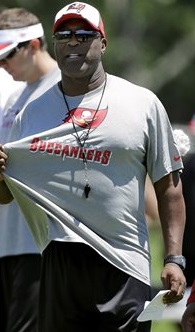 So who taught manbeast Gerald McCoy how to tackle at a Pro Bowl level? Greg Schiano, of course.
Please don't tell you Joe forgot that critical nugget of Bucs history. Ask Mason Foster and Johnthan Banks about their tackling skills, and they'll talk about their Schiano transformation, too.
For those unaware, Schiano, in every darn practice, ran players through what he called his "tackling circuit," a major cog in his routine fundamental work. Ronde Barber, Darrelle Revis, there were no exceptions.
In a league that regulates the length of practice, those drills took their share of time from the Bucs defense.
Under Lovie Smith, that drilling is gone. So what are the Bucs defenders doing with the extra time? Jonathan Casillas explained.
"It's different technique stuff we're working on. As linebackers, we get a little extra time just doing linebacker specific things, reads, run fits, pass fits and fewer things general to the overall defense," Casillas told Joe.
Casillas went on to say "there was no problem with the tackling circuits because football is about blocking and tackling." But he emphasized there's now loads of nuanced coaching going on, especially by the head coach.
"Lovie spends some time with [the linebackers], especially during individual stuff, and during key drills, just different run fits with that. He's the quarterback then, giving us dummy looks sometimes," Casillas said. "He's a linebacker-mentality coach. You can tell by the way he talks and the way he addresses the unit and the entire defense."
Yes, Lovie is a quiet, direct teacher of defense. That's his DNA. Joe remembers Matt Forte telling Joe at this year's Pro Bowl that Lovie is "hands-off" when it comes to the offense.
Joe can't really wrap words around it, but there's such a quiet calm aura around Lovie's new Bucs defense. Confidence. Coaching. Joe can't wait to see it.