Where's The Change In Lovie?
April 16th, 2014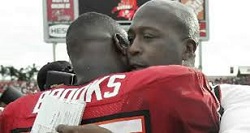 Lots of mysteries surround the 2014 Buccaneers.
By design, the entire offense is a secret. Tampa Bay's targets in the NFL Draft are complete unknowns. And how a mattress on grass, a living-room stripper pole, a kitchen fire and a sibling stabbing a thigh cost the Bucs their good No. 2 receiver is a question mark, too.
It's also unclear how Lovie Smith has changed after a year out of football.
Lovie has raved repeatedly about how beneficial his year away from the game was. He recommends a year off to everyone, with the caveat that somebody funds your vacation.
Lovie said he used his down time to study all aspects of football and his coaching practices and came away re-energized by the validation he felt, as well as eager to implement tweaks into Lovieball.
But where is Lovie 2.0?
Starting quarterback Josh McCown knows Lovie well, having played for him in Chicago. Joe asked McCown yesterday what subtle differences he sees in Lovie throughout the first eight days of the new Bucs regime, and McCown's answer was that everything is the same and Lovie is exactly as he was in Chicago.
McCown says that's a great thing. Lovie's consistency is what helps command respect.
Combined with Gerald McCoy telling media that he's been very busy studying film of the Glory Days Buccaneers and the Bears defense under Lovie because "we are playing the old school, traditional, Tampa-2 defense," Joe's really wondering how Lovie has changed? Cynical Bears fans who follow the Bucs also have told Joe that Lovie appears to be putting together a thin offensive line, much like he did in Chicago.
Joe's absolutely not being negative here, merely searching for clues. Joe believes Lovie has changed, and that will be evident come draft day and when the Jeff Tedford offense is revealed.