The Full Grilling Of Josh McCown
April 16th, 2014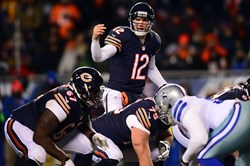 Enjoy this unedited 17-minute audio of Josh McCown facing the Tampa Bay media Tuesday at One Buc Palace.
The Bucs' starting quarterback was circled by media types and grilled and drilled by the local pen and mic club on various topics. It's a great way to learn how the leader of the offense handles himself.
Joe's in the mix asking McCown about his leadership approach, meeting the college QBs coming in for visits, and more.