Plenty Of Cash Lying Around
April 9th, 2014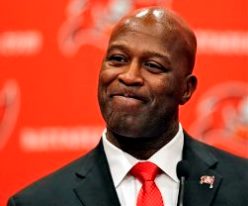 The data folks/spreadsheeters at ESPN are always talking about money, and they've informed Bucs beat blogger Pat Yasinskas that Tampa Bay remains a whopping eight figures under the 2014 salary cap.
Yes, even after bringing in a stunning, league-leading 19 free agents since Feb. 3, the Bucs have ways to go to meet Lovie Smith's goal of spending every last nickel available.
Today on ESPN.com, Yasinskas reported the Bucs are about $13 million under the 2014 salary cap. For the data hungry, Yasinskas had this to say about the Bucs' latest new contracts.
Some people were wondering how Wright, who was a starter in Chicago, fit into the safety situation with Dashon Goldson and Mark Barron. Wright's one-year contract makes it very clear the Bucs view him as a backup. 

Wright's deal includes a $730,000 base salary and a $65,000 signing bonus. But the minimum benefit allows Wright to cost only $570,000 against the cap. 

[Wide receiver Lavelle] Hawkins signed a similar deal. His one-year contract features a $730,000 base salary. Hawkins will receive a $65,000 bonus if he's on the 53-man roster for the opening game. But Hawkins will only count $570,000 against the cap.
Back to the $13 million available, the Bucs could do an awful lot with that cash. They could use some to add players, obviously, but some could be used to help lock up Gerald McCoy long term. The Bucs will also need a few million or so to sign their draft picks and, as Joe understands the rules, they can rollover money into next year's cap.
Imagine if the Bucs rolled over $5 million and parted ways with Dashon Goldson and Carl Nicks after this season. The Bucs would be able to go on another shopping spree in the 2015 offseason.