Next Week's Practices Can Alter The Draft
April 19th, 2014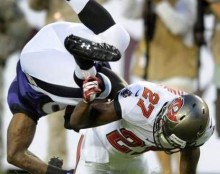 What if Lovie Smith is unimpressed by Johnthan Banks when he finally sees him on the practice fields of One Buc Palace next week?
Suppose coaches are wowed in drills by healthy, hungry returns of DaQuan Bowers and Adrian Clayborn?
And if Eric Page has the dropsies?
The Lovie regime finally gets on the practice field Tuesday after two weeks of classroom work with players. League labor rules prohibited anything but film study and conditioning since players arrived April 7 for the 2014 season.
Yes, "practices" next week are basically touch football in underwear, but there's still plenty to see, especially from certain positions. These long sessions can surely impact a team's direction on Day 3, if not Day 2, of the NFL Draft.
For example, Joe and fans can speculate all day long about the Bucs drafting two receivers, but the urgency (and rounds) of those potential moves could change based on what is seen in Lovie's "voluntary minicamp," April 22-24. A new regime will scrutinize the roster in April far more than a returning one.
Heck, even Mike Glennon could be flawless and fluid, and run Jeff Tedford's mysterious offense like a seasoned veteran Pro Bowler.
Of course, Joe will be watching every minute of practice and will keep you informed.