Mocking Gabe Jackson At No. 38
April 17th, 2014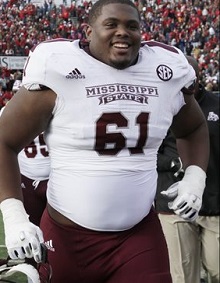 Joe realizes there are plenty of BSPN faithful among us, people who believe that if a BSPN mouthpiece says something, well, it's as if Moses is talking at Mt. Sinai. It reminds Joe of those old EF Hutton TV commercials of his youth.
So in the spirit of the BSPNites, Joe will reveal the latest from helmet hair draft guru Mel Kiper, who behind a BSPN pay wall revealed his latest two round mock draft this afternoon.
Kiper claims the Bucs will pass on a quarterback and a premier left tackle prospect like Jake Matthews and snag Texas A&M wide receiver Mike Evans with the No. 7 overall pick. Then, per Kiper, the Bucs will pass on QB Jimmy Garappolo to upgrade the offensive trenches with Mississippi State guard Gabe Jackson.
Round 2

33. Houston Texans | *Teddy Bridgewater, QB, Louisville
Let me be clear: This is the top-rated quarterback on my Big Board, a player I have rated higher than Bortles, Manziel or Carr. (It's very close on the top three, however.) But my reading of the tea leaves in speaking with many evaluators around the league is that Bridgewater could drop if he slides past a couple of points early on. If I could project trades, I'd have someone taking him later in Round 1 having moved up. Obviously, he's a steal at this point.

34. Washington Redskins | Chris Borland, ILB, Wisconsin
Tackling was a huge problem for the Redskins last year, and adding one of the most consistent tacklers in the draft at a position of need makes sense here. I could see Borland in Round 1, too. He's currently among my top 25 players in the draft.

35. Cleveland Browns | *Davante Adams, WR, Fresno St.
At this stage the Browns have already drafted a QB and a CB, both positions of need, and here they take advantage of the great depth at wide receiver and get a player like Adams who could become a very good No. 2 behind Josh Gordon.

36. Oakland Raiders | *Timmy Jernigan, DT, Florida St.
If Jernigan had a better reaction time off the snap he'd go higher, and in terms of his ceiling he's a really good value at this stage. The Raiders have needs everywhere, and a strong interior lineman here fills one.

37. Atlanta Falcons | Dee Ford, DE/OLB, Auburn
The Falcons lack a pass-rusher defenses fear, and while Ford is merely adequate against the run, he's a major menace as a speed rusher, and gives Atlanta a needed new look there.

38. Tampa Bay Buccaneers | Gabe Jackson, OG, Mississippi St.
When he's healthy, the Bucs have one really good guard in Carl Nicks. But they don't have another good one, and Nicks' health can't be assumed. Jackson is a good one.
Jackson has no baggage as a four-year starter with no massive flaws or baggage. At 6-3, 336, he's certainly not size-challenged and he's said to be an intelligent student of the game as the son of a high school coach.
Joe can't argue with the Bucs beefing up their thin offensive line corps with Jackson. However, Joe would rather see the Bucs snatch a blue chip offensive tackle, if they're not going to draft a QB in the first round. That's not a sexy pick, but it's typically a great move for a franchise.