Mileage Matters
April 30th, 2014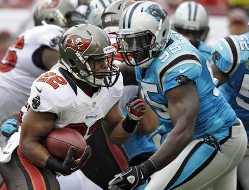 Joe was loudly criticized a couple of weeks ago after suggesting Doug Martin might not have a long future with the Bucs.
Those who thought Joe was a complete moron might want to read former Packers salary cap chief Albert Breer's new column about running backs' value in the NFL. Martin's uncertain future is touched upon.
But the story, via MMQB.com, isn't about Martin. It's an analysis of the sharply declining value of NFL running backs. Breer dives into how much teams don't want to invest in running backs with mileage. Bellcow success rarely rewards RBs any longer.
Teams also have deeply devalued the position in the NFL Draft.
Speaking of rookies, the running back marketplace might be even bleaker. Since 2011 there have been four running backs taken in the first round. (None was taken last year for the first time since 1963). The highest one selected in 2012, third-pick Trent Richardson, was traded early in his second season.

The data on running backs being selected in the top four rounds is dramatic. In 2011, there were 14 backs drafted in the first four rounds—58% of the number drafted overall. Last year, there were seven—30% of all the backs drafted.

Other than Richardson, there has been no running back drafted higher than 27th in the last four seasons. Last year, the first running back drafted didn't come off the board until pick No. 37. (Giovanni Bernard to Cincinnati). And according to the mega-analysis of this year's draft, that trend will continue.

NFL teams are approaching running backs with less and less urgency, as it has become a position—save a few precious outliers—where "you can get a guy."
And that brings Joe back to Martin. Joe would love to see Martin wearing Bucs colors. But with Mike James and Bobby Rainey on the roster, what would Lovie Smith and Jason Licht do if they could get, say, a second- and fourth-round pick for Martin next week? That's serious ammunition they could use to trade up for another first-round pick, a guy who would have a lot more projected shelf life and projected value than Martin.
Again, Joe recommends you read the Breer piece linked above. Joe's not lobbying for a trade, but it certainly wouldn't shock Joe.
Joe can only wonder what the trusted analytics gurus at One Buc Palace are saying about Martin's value after 446 NFL carries, declining production last year, and shoulder surgery on top of 617 college carries.