McCown Works During His Breaks
April 22nd, 2014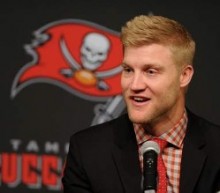 When Mike Glennon was taking snaps today in various drills against the defense, Josh McCown was almost always 10 yards behind him.
McCown wasn't telling jokes, chatting or wiping his brow.
McCown was taking the rep behind Glennon as if he was under center. McCown would even point out protections, in addition to going through a pretend throw or handoff. Once, Joe even saw McCown read the play differently than Glennon.
Joe doesn't know if McCown will continue going through that process, but it spoke very well to his work ethic. Joe doesn't recall seeing another QB do that to the level McCown did today.
Joe found it interesting that Bucs QB hopeful Mike Kafka or Glennon didn't follow McCown's. Just a hunch, but McCown's work ethic and approach likely is one Lovie Smith wants to see emulated.