Mason Foster Takes Over Defensive Play Calls
April 25th, 2014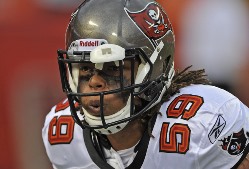 One thing that blew Joe's mind about the greatness of Lavonte David was him calling defensive plays as a rookie, and playing like a madman on the field, literally everywhere the ball was.
Well, under Lovie Smith's defense, the weakside linebacker no longer calls defensive plays. That responsibility has been handed off to middle linebacker Mason Foster.
The task is nothing new for Foster, who himself called plays as a rookie. Foster is looking forward to the new duties.
"It is going to be good," Foster said. "I did it my rookie year. Takes a lot to do, but I love it, being in front of the team making the calls. It is something me and Lavonte always did together. So I know he has my back and we will keep working through it. I love it."
This will be about as smooth of a transition as there can be. During David's rookie year, Foster told Joe how he and David would spend the better part of the night before a game sitting in the team hotel going over plays, reviewing the opposing offense's plays and tendencies, and bouncing ideas off each other's heads to mentally prepare for the next day's game.
In fact, Foster said in practices the past couple of seasons, he too wore a headset in his helmet to prepare for calling plays, just in case David was out of action for some reason.
"Will [lean on David] a lot," Foster said. "We always bounce ideas off of each other, talk about everything off the field. I did it my rookie year. This is part of the game. I'm in my fourth year. I am ready. Smooth transition."
While playing outside linebacker at the University of Washington, Foster called defensive plays for the Huskies as well, but used only hand signals and wrist bands to decipher what coaches wanted.
"Speakers are a lot easier than hand signals," Foster said.
Foster noted that communication is the most difficult hurdle for him to leap in calling plays. "You are out there running and breathing hard and trying to talk to everybody."
David admitted that fewer responsibilities for him will make things a bit simpler in doing his job.
"It kind of frees me a little more and gives me some time to digest what I have to do and help everybody else get lined up," David said. "It's a little pressure off of me. 'Mase' will do a great job."