How Do The Bucs Stack Up?
April 30th, 2014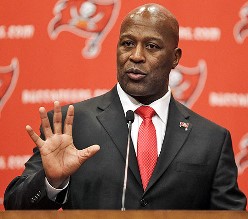 The Bucs sure have made this offseason go somewhat quickly, even if Joe has been waterboarded with mock drafts until he finally waved the white flag and circled the return of Jack Bauer and 24 next week on his calendar and not the draft.
The pollution, both digital and electronic, that these mockers have littered our life with is out of hand, and Joe is calling for the FCC to step in and put a moratorium on these things for the public well-being.
It is getting to the point that Joe thinks "mock" should be George Carlin's eighth dirty word.
When a popular mocker at a large sports website tries to tell Joe he doesn't care about accuracy, then Joe has no use for him and his, um, work. What else is he typing that is inaccurate or is written without regard for accuracy?
(Memo to mockers: If you don't give a damn about accuracy and do mocks for "entertainment," then at least do yourself a favor and have a disclaimer on your work. Otherwise, you are misleading people and, frankly, you look like a clown. This does not include Joe's good friend Justin Pawlowski, who puts his heart and soul into mocks and Joe very much appreciates his work.)
In this BSPN video, former Bucs assistant coach Herm Edwards and Jim Basquil look at how the Bucs' offseason stacks up against the rest of the teams in the NFC South.