Greg Robinson And The Bucs
April 10th, 2014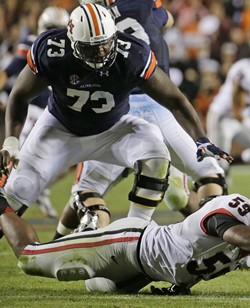 This irritates Bucs fans; Joe understands but can't ignore it. It's like when the toilet is running. That irritates Joe, too, but he cannot ignore that, either.
On paper, as of April 10, 2014, Joe is uncomfortable with the construction of the Bucs' offensive line. At best, it is thin as hell.
And while Joe has found no one to suggest new left tackle Anthony Collins isn't a good blocker, Joe would rest a whole lot easier at night if he knew Collins could play a half-season much less a full season.
That's not to mention Carl Nicks' toe and what appears to be a hole at right guard.
No, Joe is not all that comfortable with the current offensive line. He's not the only one. That is why in his latest mock draft, Joe's good friend Justin Pawlowski of WHFS-FM 98.7 has the Bucs picking Auburn tackle Greg Robinson.
7. Greg Robinson – OT/OG – Auburn: The massive Robinson would play guard if selected by the Bucs.
Though this wouldn't be a sexy pick, Joe would be just fine with picking Robinson if he falls to No. 7. Get a guy like Robinson or Jake Matthews and you have the anchor for your line for the next decade. And Justin is correct, Robinson could play guard and later be moved to tackle. It's happened before in the NFL.
Getting a roadgrader like Robinson when you have a stable of running backs led by Doug Martin is just smart.