Grateful For Vince Young's Ghost
April 5th, 2014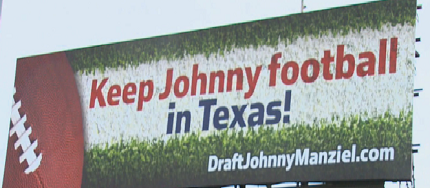 The intrigue surrounding the 2014 NFL Draft is great theater. Nobody knows what's going to happen. The pressure is immense and growing in Houston for the Texans to draft Johnny Football with the No. 1 overall pick.
But the Texans won't be pushed around. They've been down this road before.
The Johnny Football billboards around Houston (shown above) aren't phasing new Texans coach Bill O'Brien. He says 10 quarterbacks are under consideration and he and his general manager will not be steamrolled.
Back in 2006, there was even more pressure on Houston and then general manager Charley Casserly to grab hometown Houston hero quarterback Vince Young with the No. 1 overall pick. Casserly didn't, and he didn't even go with the popular consolation prize, Reggie Bush.
The Texans drafted defensive end Mario Williams, who gave them two Pro Bowl seasons and is still going strong — 13 sacks last year for Buffalo.
Texans ownership knows the risks of drafting a QB with question marks at No. 1 as well as any other team. The ghost of Vince Young is alive and well.
Bucs fans like Joe, who enjoy thinking of Johnny Football and/or Teddy Bridgewater finding their way to Tampa Bay at the No. 7 overall pick, have legitimate hope in their fantasies. The Texans likely will be wowed by the awesome thought of pairing Jadeveon Clowney with J.J. Watt. The Rams and Falcons don't need a quarterback. The Browns seem in love with Derek Carr. The Raiders think Matt Schaub will have them Super Bowl bound.
Today, Joe is grateful for Vince Young's ghost, and for whatever fear the likes of Blaine Gabbert, Jake Locker, Christian Ponder and other recent firt-round QBs might conjure in teams drafting ahead of the Bucs.
Joe has no fear in drafting Bridgewater or Johnny Football. Bucs fans can pretend the Bucs quarterback position is in good shape, but it's not. Derrick Brooks calls the situation "the elephant in the room." Joe agrees. And Joe wants to see it addressed immediately.