GMC Was A Lure For Michael Johnson
April 15th, 2014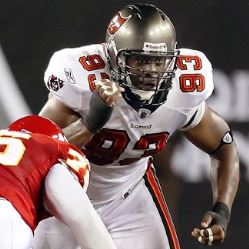 It sure seems like Lovie Smith is putting a lot of pressure on free agent signee Michael Johnson to help revive a too-long dormant pass rush.
Johnson welcomes the responsibility but, he admits, part of the reason he chose to play for the Bucs was the prowess of defensive tackle Gerald McCoy.
"Anytime you have the opportunity to play beside a guy who is as talented as [GMC] is and what he has done in the league so far, and what he is going to do, you want to jump at that opportunity and take advantage of it," Johnson said. "It is a blessing and I look forward to it.

"Any time you have a guy like that on the inside who is working; it makes it easy for the whole defense whether it is me or guys on the other side or the secondary or linebackers. A player like that who demands the attention he demands, he is a difference maker."
The thing is, the Bucs were so putrid in rushing the passer last year, that even with GMC playing at a high level, it didn't much matter.
Joe just hopes the combination of quality coaches with strong resumes for developing pass rushers and help (from Johnson for example) for GMC with pressure from the edge can really release the pass rushing hounds.