Glennon Trade Chatter Identifies Targets
April 27th, 2014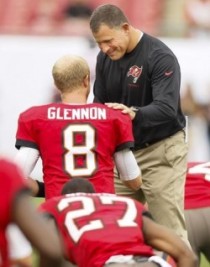 Talk of Mike Glennon getting shipped out of Tampa has entered the national discussion of quarterback balance in the NFL.
No surprise there. It was Lovie Smith (not Joe, as some fans believe) who stripped Glennon of his starting role and asked him to take a backseat to journeyman Josh McCown.
The Around The League crew at NFL.com studied the state of Glennon and various trade scenarios, all assuming the Bucs draft a quarterback they believe is there future franchise guy.
They named four potential targets:
Tennessee Titans: Coach Ken Whisenhunt has worked with pure pocket passers such as Ben Roethlisberger, Kurt Warner and Philip Rivers. He's been doing his due diligence on prospects leading up to the draft, suggesting a young quarterback is on the radar. The most obvious connection, though, is new quarterbacks coach John McNulty, who tutored Glennon in Tampa last season.

Arizona Cardinals: Similar to Whisenhunt, Arians has always preferred big, strong-armed quarterbacks for his vertical offense. Glennon conducted a private workout for the Cardinals last season, and NFL Media columnist Michael Silver confirmed the team's interest in the former NC State star as Carson Palmer's eventual successor. We're not buying Arians' contention that Palmer will be under center for the next three or four years.

New England Patriots: Schiano evaluated Glennon as the best quarterback in last year's draft. Perhaps he's shared that sentiment with football confidant Bill Belichick. Picking up Glennon for a mid-to-late-round draft pick would give the Patriots another option with Ryan Mallett due to hit free agency next offseason. It could also lead, in turn, to a Mallett trade.

Chicago Bears: The Bears worked out Glennon last April, a sign that noted quarterback whisperer Marc Trestman's interest was piqued entering the draft. McCown's defection to Tampa has left Chicago with a glaring vacancy behind Jay Cutler.
Joe buys the logic in Chicago, Arizona and New England, but not in Tennessee, where Joe would be stunned if Whisenhunt invested in Glennon.
It's worth noting Bucs general manager Jason Licht worked inside the Arizona and New England regimes.
For those thinking New England might draft a quarterback next month, Joe recently listened to an interview of longtime Patriots beat writer Tom Curran, who explained that Tom Brady is not a mentor and his attitude toward a rookie QB would be one of an enemy threat to his throne. Curran speculated the Patriots were more likely to trade for a backup or sign a veteran.