Given A Chance
April 6th, 2014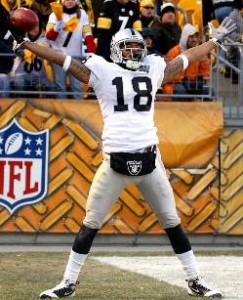 When new Bucs wide receiver Louis Murphy, who Joe will guess is now the Bucs' No. 2 receiver, met Lovie Smith, he had no idea what to expect. He had heard good things about the head coach but entered his meeting with Lovie with an open, clear mind.
Murphy left with a signed contract. His decision was simple, he told Joe. Lovie offered him opportunity, but also Murphy was won over by Lovie's personal approach.
"Just meeting with Coach Lovie, meeting with coach Lovie and his entire staff. Just talking with them and the opportunity that is available here. Lovie is a team-first guy. Not about individuals but the team, helping the team with a Super Bowl. That's what I wanted to come here for, to help the team win. That's what drew me here, the conversation he and I had," Murphy said.

"Everything is open. I look at is I'm No. 1. That's how I approach it everywhere I have been. Every time you step on the field, you have to approach it that way. I am coming in to work and bust my tail and I plan on competing for a starting job."
Mind you, Joe talked to Murphy prior to Mike Williams being shuffled off to Buffalo for a sixth round pick. Clearly, Lovie had not tipped off Murphy to this transaction.
And opportunity Murphy shall have. He once started for the Raiders and Carolina. Now he could start for the Bucs — no worse than a No. 3 receiver pending what the Bucs do in the draft.