Mike Evans Before Lewan Or Bridgewater?
April 21st, 2014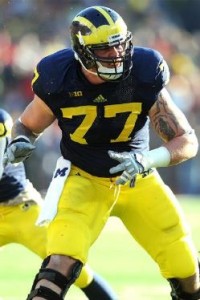 Joe doesn't hide his immense respect for Pat Kirwan, the former Jets linebackers coach and personnel executive who has authored books on Xs and Os and co-hosts the fantastic Movin' The Chains on SiriusXM NFL Radio, along with his duties for CBS Sports.
Kirwan is plugged in from many different angles. So Joe is a bit distressed that Kirwan has the Bucs selecting Texas A&M wide receiver Mike Evans with the No. 7 overall pick in his latest mock draft.
Here's his top-7, via CBSSports.com.
1. Houston Texans — Jadeveon Clowney, OLB/DE, South Carolina: Clowney is on top for the third straight week, which is tough with rampant rumors and swirling speculation about the top pick. Clowney has elite skills. Too bad it didn't show much in the 2013 season. Getting Andrew Luck to the ground is the top priority and Clowney should help but there is risk.

2. St. Louis Rams — Greg Robinson, OT, Auburn: I believe St. Louis will trade down but if the Rams stay in the No. 2 spot Robinson has all the traits of a future Pro Bowl tackle. Former NFL offensive line coach Bob Wylie told me Robinson is so athletic he can get out of things and recover better than many guys to come down the road.

3. Jacksonville Jaguars — Johnny Manziel, QB, Texas A&M: The Jags need a QB for the future and this young man has the competiveness, athletic ability and skills to be a starter in the NFL. I'm not sure this is a lock for Jacksonville.

4. Cleveland Browns — Sammy Watkins, WR, Clemson: Later in the first round Cleveland will get its quarterback but for now it's a game-breaking wide receiver opposite Josh Gordon.

5. Oakland Raiders — Blake Bortles, QB, Central Florida: It is a risky pick with Matt Schaub on the roster and the pressure to play Bortles right away. I wouldn't be surprised to see the Raiders move down instead of taking this pick. A year from now the Raiders would have their long-term answer.

6. Atlanta Falcons — Jake Matthews, OT, Texas A&M: The Falcons are in a great spot to take a pass rusher or a 10-year starting left tackle. Today it's the pass protector and a guy that gives Matt Ryan the best chance to succeed.

7. Tampa Bay Buccaneers — Mike Evans, WR, Texas A&M: The Bucs traded away Mike Williams and they are too far down the draft board to get Sammy Watkins so it's the next best thing. Evans is a faster, more explosive version of Vincent Jackson. You better have big corners when you play Tampa Bay.
Now this mock draft flummoxes Joe, though Joe finds it pretty spot on through the first six picks. Why would the Bucs pass on a blue chip tackle prospect like Taylor Lewan or QB Teddy Bridgewater in favor of a wide receiver in a draft that's chock full of wide receiver talent? For Joe, that doesn't make sense.
The Bucs have a serious need on the offensive line. Anthony Collins is an expensive question mark as a starting left tackle, a guy who has never started half a regular season in his career. And Demar Dotson will not be confused with an emerging Pro Bowler. Both turn 29 during this season.
Yes, Dotson is inexpensive and he's an average player, no shame there, but Joe would be pleased to see a rookie stud tackle come in and let all three of them compete. Collins has played plenty of right tackle with the Bengals and could move to that side in future years — or immediately.
Bridgewater represents a major talent/potential upgrade for the most important position in the field.
The Bucs traded trade mattress-in-the-yard, blade-in-the-leg, house-party-friendly No. 2 receiver Mike Williams, but that's no reason to get trigger-happy in the draft. We still don't know what Jeff Tedford's offense will look like. We know he's got a fascination with multiple, pass-catching tight ends, and possibly, like Lovie Smith, is intoxicated by Jeff Demps.
Joe's just not feeling how the Bucs are dialed into a receiver in the first round, unless they're not sold on Vincent Jackson's future and want every option in the fold in case they don't want to pay him $10 million in 2015.