Dominik Has Little Faith In Bridgewater
April 18th, 2014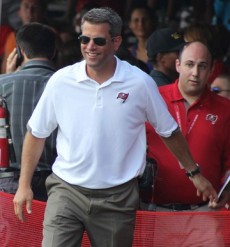 Given the widespread disdain for the scouting talents of former Bucs rockstar general manager Mark Dominik, Joe suspects the following will have some Bucs fans wanting to draft quarterback Teddy Bridgewater immediately.
Dominik took to the BSPN airwaves today to pour a bucket of cold water on Bridgewater's potential.
ProFootballTalk.com was taking notes.
"There were things you saw on tape when you watched him," Dominik said. "Something that scouts internally, we talked about it in Tampa with Teddy Bridgewater last year. Is he really the premiere quarterback? I like the young man, I think he's a quality individual, he's got character and leadership and those things. But this is a quarterback, and you're judged by what quarterback you draft, and I think Teddy Bridgewater might not have all the pieces you're looking for."
You can click above to read more, but Dominik, now a staff "front office" insider for BSPN, went on to say Bridgewater won't be selected early in the first round, if at all on Day 1 of next month's NFL Draft.
Joe can visualize Dominik and Greg Schiano sitting One Buc Palace drinking beer in a film room watching Bridgewater and marveling how they pulled a much better QB in Mike Glennon. And these guys are so QB savvy they didn't even need a quarterback coach who could teach mechanics, or even believed in teaching mechanics!
Perhaps they studied Bridgewater just before they determined Michael Bennett wasn't a premier pass rusher or before they saw Akeem Spence had top secret pass rushing ability?
Joe's watched plenty of Bridgewater, and there's plenty of talent there, and he played in a pro-style system at Louisville. Joe would have no problem with the Bucs drafting him.
Joe finds it interesting that Dominik said you're judged by the quarterback you draft. Does that mean he thinks sleepy, leaky Josh Freeman and Mike Glennon got him fired?