Did Freeman Get Mike Sullivan's Blessing?
April 11th, 2014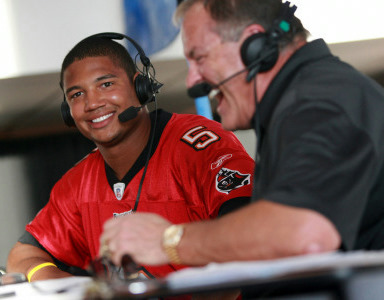 Word that the Giants are about to bring sleepy, leaky Josh Freeman in for a workout intrigues Joe because it would mean the former Bucs franchise quarterback likely earned the blessing of highly respected ex-Tampa Bay offensive coordinator Mike Sullivan.
Now don't misinterpret what Joe means by "highly-respected" when it comes to Sullivan.
Sullivan was the mastermind behind the Bucs' historically brutal offense last season. How many second half points did the Bucs average? They executed as well as Joe would at a Hooters Calendar girl pool party. The Bucs' performance was humiliating, worst in the NFL.
But Sullivan is a former Army Ranger and commands a ton of respect in NFL circles, especially with the Giants, where he worked under Tom Coughlin for many years as receivers and quarterbacks coach. Sullivan was given credit for helping revive Eli Manning, and Joe's heard nothing but great respect for Sullivan from the likes of Amani Toomer, Coughlin and others.
Sullivan is a class act and not a baloney peddler.
There's no doubt in Joe's mind that the Giants, when considering a look at Freeman, sought Sullivan's opinion. If Freeman does, in fact, work out for the Giants, then Joe's going to assume Sullivan gave Freeman a thumbs-up as a potential backup to Manning and as a guy who would not infect the locker room.
Perhaps Leslie Frazier was being forthright?
That would be very interesting to the say the least. Sullivan has yet to speak publicly about the Bucs since his firing. Joe's really wondering today what Sullivan would have to say about all the times early last season and late in 2012 when the ball was mysteriously yanked from Freeman's hands in key moments in favor of handoffs, in addition to the decision to switch to Glennon. It's starting to smell even more like Greg Schiano pulling the offensive strings.
Want more to chew on? Consider last year's Bucs quarterbacks coach John McNulty (now with the Titans) served under Tom Coughlin in Jacksonville, later worked for Coughlin mentor Bill Parcells, and maintains a relationship with Coughlin. Joe suspects McNulty got a call from the Giants about Freeman, too.