Bucs In Draft-Turning Seat At No. 7
April 7th, 2014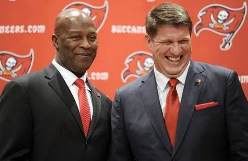 Former NFL player Bucky Brooks, one of NFL Network's three full-time draft gurus, has penned a piece for NFL.com naming five potential draft picks that could alter the course of next month's NFL draft.
Why? Brooks believes these five players — non-quarterbacks — represent the final shot at a blue-chip player at their respective positions. That means some teams will go into desperation mode just before a player from this group is likely to be drafted.
The list includes the following:
Mike Evans, Texas A&M
Taylor Lewan, OT, Michigan
Eric Ebron, TE, North Carolina
Dee Ford, DE, Auburn
C.J. Mosley, LB, Alabama
The theory is simple. For example, Brooks speculates Sammy Watkins will be the first wide receiver taken, and teams are less likely to seek a trade up for Watkins because Evans also is an assumed impact star receiver and teams would rather wait to see how far Evans might fall because they'd have to give up less to draft him in a trade scenario.
Lewan fits the mold once fellow tackles Greg Robinson and Jake Matthews are drafted. In the case of Ebron, he's the only consensus blue-chip tight end prospect.
Interestingly, Brooks believes the Bucs are one of the small handful of teams where Evans, Lewan and Ebron might land. Joe wouldn't go that far. But the whole discussion highlights the fact the Bucs could be in an ideal position to trade down.
The Giants with the No. 12 overall pick might be aching for both Lewan and/or Ebron by the time the Bucs are on the clock with the No. 7 overall pick. The Browns, for example, might be willing to deal a package of picks to the Bucs for Evans, if Cleveland has already secured its QB of the future with their No. 4 overall pick. Joe wouldn't mind taking the Browns' 26th overall pick this year, their second-round pick, and their 2015 first-round pick.
Sure, Joe wants to see the Bucs draft Johnny Football or Teddy Bridgewater, but there are strong odds both will be unattainable. Trading down, assuming Lovie Smith and Jason Licht are strong evaluators, absolutely could do wonders for the Bucs.