Bucs An NFL Test Case?
April 19th, 2014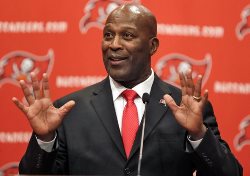 Yes, Joe wrote earlier about how next week's practices could alter the draft plans of the Bucs. Joe is sure Bucs coach Lovie Smith and his staff are more eager to see the players on the practice fields at One Buc Palace than the players are to get there. And the players are excited, from the half-dozen or so players Joe had a chance to speak with the past two weeks.
Now Joe has harped on the odds of a turnaround after a free agent spending spree often leads to less-than desired results. It's just the history of the NFL.
But Judy Battista of NFL.com believes the Bucs might just buck the ugly trend of free agency spending. She believes what happens to the Bucs this season could be a harbinger of the future.
Massive free agency overhauls often don't work, but the Bucs' offseason could provide a case study in how a team with a lot of leftover talent (Jackson, Gerald McCoy, Lavonte David) integrates a new regime and a flood of new players to try to make a quick strike.
This is why Joe thinks the mid-season mark will be important. The Bucs, as Joe types this, have 19 new players. That's a lot, more than any other NFL team.
Often, as Gerald McCoy alluded to this week, it takes a while to become familiar with each other, or as the football vernacular goes, "time to gel." There is also learning the defense and the Jeff Tedford offense.
So if the Bucs don't start out like a house on fire, don't panic. How the team plays as the season unfolds will be telling.