"Still Searching" Outside And Inside One Buc
March 24th, 2014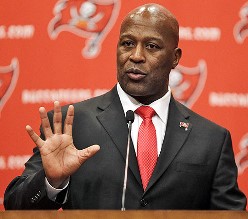 It's the kind of attention the Bucs absolutely don't want. News crews outside One Buc Palace this morning reporting live on the stabbing of Mike Williams and his allegedly rogue brother, who is on the run from police.
Local authorities, as of 7:30 a.m., say they're "still searching" for Eric Baylor, working to execute a warrant for his arrest as Williams' attacker. This has to have Lovie Smith still searching for his own answers regarding Williams.
On one hand, Lovie and the Bucs can't blame Williams for getting stabbed in his own house on a Sunday during typical waking hours. There are no reports of Williams being drunk or high. But on another hand, the Bucs easily can wag a finger of blame at Williams. Surely, Williams was told by the Bucs to stay out of any kind of trouble following the reports of his bad-neighbor status at his old house, and his order to appear in court on misdemeanor trespassing and criminal mischief charges. Williams, gashed thigh and all, is due back in court this week.   
Yeah, it's darn harsh to give a guy a black mark for getting stabbed, but that's how the real world works when your employer feels the fallout and gets its reputation tarnished. It doesn't help your job status.
Joe believes Williams is lucky to be dealing with a fair, deeply religious man and an experienced head coach in Lovie. He's more likely to not be reactionary and not evaluate this situation based on emotion.
Also, it's important to note that Williams likely torpedoed his trade/market value with this recent incident. Fair or unfair, again, that's reality — a reality that likely will make the Bucs even more patient with Williams.