"Solid" Not Enough On Lovie's Edge
March 2nd, 2014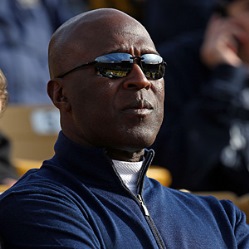 Lovie Smith laid down strong words last week when he said his necessary, double-digit pass rusher is not yet on the Bucs roster.
Now, via a quote to TampaBay.com, Lovie drops what appears to be a different kind of hammer on the high hopes of Adrian Clayborn.
Beat writer Rick Stroud delivered the message via his chat with Lovie in Indianapolis.
"Clayborn has been a good, solid player. But solid gets us 4-12. We have to be better at those positions. We've got to get more guys that can run and hit," [Lovie said.] "I know that's generic. But that's the game, and it's true. That's what we're going to do is to keep upgrading our roster. We're not there."
Joe's starting to wonder whether the Bucs might seek a trade of Clayborn if they can secure what they're seeking in free agency. Clayborn is in the final year of his rookie deal. If Clayborn has another "solid" season (Lovie's adjective) or better as a rotational defensive end, then the Bucs would be forced to shell out quality cash to keep Clayborn, which they're unlikely to do for a backup.
Perhaps the Bucs could fetch a fourth-round pick for Clayborn? Joe can't imagine a bigger bounty with Clayborn only being signed through 2014. Again, Joe's not advocating a trade now, but if Lovie is insistent on landing a better starter to replace Clayborn, then the Bucs can probably make a smarter call on a backup.
Stroud also shared a stat that highlighted the Bucs' anemic pass rush last year.
According to sportscharts.com, the Bucs recorded sacks on 6.01 percent of the plays in which their opponent tried to pass in 2013. That was 22nd in the league. The league average was 6.67, and seven of the top 10 teams made the playoffs:
It's no surprise that those numbers look ugly. Lovie's simply not going to sit back and hope for improvement with the current crew.