Puzzled By Josh McCown
March 17th, 2014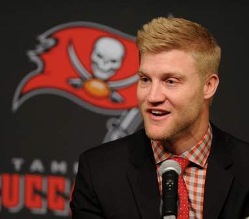 Yes, the Bucs have raised some eyebrows. First, the Bucs signed — through last night — a grand total of nine new players since the free agency bell rang. Nine! An incredible flurry of activity.
Possibly the most interesting signing was Bears quarterback Josh McCown, a guy who once was cut by then-Bears coach Lovie Smith himself. Then, after landing in Tampa , Lovie proclaimed McCown the Bucs' starting QB.
This got the attention of Nick Kostos. The executive producer of "Schein on Sports," hosted by popular sports radio personality Adam Schein, heard on "Mad Dog Radio," part of the family of sports channels heard exclusively on SiriusXM Radio, offered his two cents on the McCown signings.
Let's just say Kostos, who also is an NFL columnist for Bleacher Report, doesn't hold back.