Pats, Broncos Trying To Get Revis?
March 1st, 2014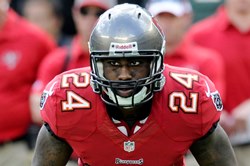 It all started early this week when CBS Sports NFL insider Jason La Canfora wrote that NFL teams have called the Bucs to kick the tires on a trade for all-world cornerback Darrelle Revis. Given the words of Bucs coach Lovie Smith and general manager Jason Licht, that doesn't appear likely barring an earth-shattering deal.
Chatter about this checking of the price tags has ricocheted around the league and still is having ripple effects. It's the talk of the NFL as free agency looms in 10 days. So leave it to the creator, curator and overall guru of ProFootballTalk.com, the great Mike Florio, to put his ear to the rail to try to find out what teams were calling the Bucs.
By listening to insiders and doing a modicum of research, Florio believes the Broncos and Patriots are hunting Revis.
Both teams have aging franchise quarterbacks who have managed to contend but not conquer in recent years. Both teams are running out of chances to finish the job.

For New England, paying Revis a $1.5 million roster bonus, a $1.5 million workout bonus, and a $13 million base salary could be a much more desirable alternative than giving a big-money, multi-year deal to Aqib Talib. Thanks to Aaron Hernandez, the Patriots would be taking a huge risk by making a big investment in another player with a history of off-field trouble. With the market for Talib believed to be more robust this year than last, the Pats likely won't be able to pull off another one-year, $5 million can-kicking contract.

Then again, the Broncos could make a more attractive offer. Dumping cornerback Champ Bailey and his $10 million cap number and swapping in Revis would result in a net cap increase of $6 million — but a dramatic increase in on-field ability. While Revis may not give the Broncos enough to close the 35-point gap with the Seahawks, it's not a bad start.
Florio makes a few salient points. First, only a team that can clear $16 million in cap space can get Revis. That leaves a shallow pool of potential trade partners. Also, as Florio points out, if such a trade happened, it likely would have to consummate no later than a week from Thursday, March 13, as that is the date the Bucs owe Revis a $1.5 million pay out.
Frankly, Joe isn't holding his breath on Revis being traded. It is pretty clear Lovie wants him. Licht seems inclined as well. Lovie and Licht are hoping to turn the Bucs around quickly. You don't do that by unloading at worst the second-best corner in the NFL. The Bucs already have enough holes, right? So why dig a crater in the secondary?
Are Bucs fans that short-sighted that they don't remember the movie about the Bucs defense that debuted just after the 2012 season: "Friday the 13th: The Bucs Cornerbacks?"