Michael Bennett Will Be On The Market
March 3rd, 2014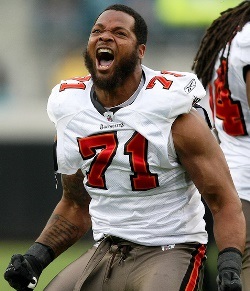 Yes, it was one of the silliest moves Joe can remember, the Bucs letting 2012 sack leader Michael Bennett walk away for no good reason. No, Bennett will never be confused with Reggie White. But when a team is simply crying for sacks, it shouldn't let its only proven defensive end who can make quarterbacks cry get away.
Bennett, who was a critical player for the Super Bowl champion Seahawks — imagine that, a guy who couldn't help the Bucs but could help a team win a Super Bowl — appeared on "The Blitz," heard exclusively in SiriusXM NFL Radio today to discuss his pending free agency.
Bennett will not be tagged by Seattle, but Bennett explained if he leaves, "I am not willing to take a paycut, I will tell you that. The market will be different than last year. more teams have money this year. There will be a lot of competition for a defensive end this year."
But Bennett did say that he is not looking to be the highest-paid player, but what will be important to him is security so he can send his daughters to college. To hear some of Bennett's interview, click the orange button below, courtesy of SiriusXM NFL Radio.