McDonald Has A Couch-To-Riches Story
March 11th, 2014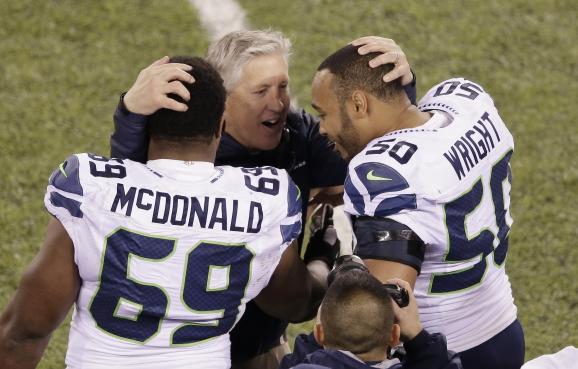 New Bucs well-paid, pass-rushing defensive tackle Clinton McDonald has got quite a story to tell when he meets the Tampa Bay media tomorrow.
McDonald was cut and out of work after training camp last season before winning a Super Bowl ring with Seattle.
So the story goes, Seattle cut him after 2013 training camp and two-plus seasons of service and he went back to Arkansas to work his butt off in the heat for a chance to return to the NFL. The Bucs and every other NFL team let him sit there for two weeks before Seattle called him back, documented the News-Tribune.
"It just seemed that something happened, like the light went on or the sense of urgency changed," Pete Carroll said. "He said that he'd never really felt like he'd ever been cut before. He had kind of been released and brought back on practice squads and stuff. This was the first time he really felt it. Sometimes you've got to learn the hard way. But he's really been able to step up his game and be a really good asset for us."

"… He's been more active," Carroll said. "He did lose some weight … he came back at 285 (down from about 300) and just seemed to be quicker and more active, and by far the most active that we've seen him. He's been very consistent, too. He's played real well and done a great job."
McDonald finished last season with 5.5 sacks, the only ones of his career, and now the Bucs are paying him $3 million a season, about six times what returning starter weed-friendly Akeem Spence earns.
Here's what the Seattle Times said about him in a pre-Super Bowl story.
The Seahawks tinkered with multiple pass-rushing combinations on third down, most involving speedsters.

But in the second half of the season, the Seahawks settled on using McDonald at defensive tackle on third down because he had a knack for collapsing the pocket around the quarterback.

He is third on Seattle with 5.5 sacks. He hadn't recorded a sack in any of his previous three seasons, two with the Seahawks and his rookie year with Cincinnati.
Joe's also learned that McDonald will rush off the left edge.
This is a very interesting pickup by the Bucs. Lovie wants to get after the quarterback, and now he's upgraded his pass rush at two of four defensive line positions.