McCown Not Sure If He Is Starting
March 26th, 2014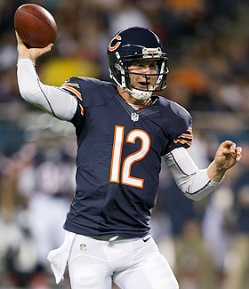 Some very interesting timing at One Buc Palace these days. Yesterday, Bucs general manager Jason Licht, in a pre-recorded interview from the NFL Owners Meetings in Orlando, told SiriusXM NFL Radio's Alex Marvez that the starting quarterback gig for the regular season is very much still in competition.
On the very same day Licht told Marvez the starting QB gig is an open competition (Licht only mentioned Josh McCown and did not mention incumbent starter Mike Glennon), McCown took to the national airwaves as well to state nearly the same thing.
While appearing on the "Doug Gottlieb Show," heard on CBS Sports Radio Network, locally tapped into via WQYK-AM 1010, McCown confessed he doesn't know who the Bucs starting quarterback is.
"Essentially, I'm coming [to Tampa Bay] to compete but they brought me here because they want me to play," McCown said. "They are bringing me here to do a job, obviously, and that is to make [the quarterback] position better. Out of the gate am I a starter? We'll see.

"I will be ready to take the snaps when they are given to me. My plan is to be the starter."
Now Joe is not suggesting he has gone J. Edgar Hoover or Richard Nixon and has listening devices planted at One Buc Palace to learn the Bucs' draft plans. But the more Joe hears Licht talk, and Lovie Smith talk, Joe is more and more convinced L&L are going to draft a signal-caller at some point in May's draft.
Whether that is Johnny Football at No. 7, Derek Carr in the second round, Jimmy Garoppolo in the third round or Aaron Murray on the third day of the draft, Joe isn't quite sure.