McCown Has Idea Of New Team
March 11th, 2014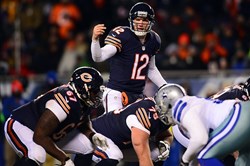 There have been a lot of whispers that Bears backup quarterback Josh McCown, who blew up in a handful of games subbing for oft-injured bratty Jay Cutler in Chicago, may just be headed to Tampa Bay to join the quarterback circus that is expected this summer.
Today, McCown appeared on "The Opening Drive," co-hosted by Ross Tucker and Bob Papa, heard exclusively on SiriusXM NFL Radio. And while McCown didn't say he thought he was coming to Tampa Bay, he didn't quash the notion either, saying he "tentatively" believes he will land with one of two teams, though nothing is "concrete."
He wouldn't say who those two teams are in respect to non-yet finished negotiations. McCown, 34, also touched on two issues that some hold against him, his age and the possibility his success was a byproduct of being a pupil of a quarterback coach/savant last season in Bears coach Marc Trestman.
"The age issue, yeah, at this age, athletes' skills begin to deteriorate," McCown said. "I say, 'Look at [my] tape.'"
McCown did not dismiss the influence he had from Trestman saying, "So much [of his success] came from coaching that opened me up to it. I had never fully grasped."
McCown said it was the little things he learned under Trestman that he will be able to bring with him wherever he lands.
For more of McCown on SiriusXM NFL Radio, click the orange button below.