McCown Comes Inspired By Sapp
March 13th, 2014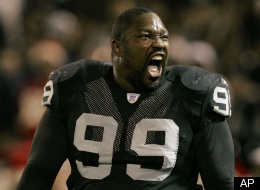 Bucs starting quarterback Josh McCown appears to be the only guy on the roster to have an on-the-field link to iconic Warren Sapp.
Then a six-year veteran in 2007, McCown started nine games for a miserable, 4-12 Oakland team. The Raiders were a brand new club for McCown, but gameday in Oakland was a new experience thanks to No. 99.
Joe asked McCown today if he could share any stories about his time with Sapp or whether Sapp left an impression on him. The question brought what appeared to be McCown's biggest grin of the day before reporters at One Buc Palace.
"How much time do we have?" McCown replied smiling and laughing. "Here's what I'll say about Sapp: One of my favorite gameday experiences is playing with Warren Sapp. And I'll just leave it at that. What a competitor. I mean, you guys saw him. But I remember the first game [I played with him], and this guy's like I am now in [his 13th year] or whatever he was in. And I'm watching this guy compete, and you're drawn to people that have that dog inside of them, that fight. And Warren is one of the greatest ones I've been around.  

"You saw him and you just felt his juice every, every game. I mean he was getting after it. He was fun to play with."
McCown seems like a laid back, intelligent guy, but the Bucs brass spoke more today about his strong, intense leadership. And McCown talked about how his high school football coaching days a few years ago made him a better leader/mentor/NFL player.
Joe surely trusts Lovie Smith's assessment of McCown's energy and leadership, and the Bucs offense appears to be in good hands. But the big question about McCown is his talent level. The Bucs are banking on McCown to have his best-ever NFL season at 35 years old, if they don't draft a quarterback in the first round of the NFL Draft.