Keeping Darrelle Revis
March 11th, 2014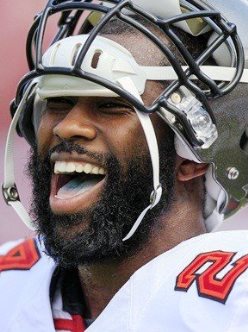 Last night when news started with embers that the Bucs were shopping Darrelle Revis , then moved to the bonfire that was the Bucs were planning to toss Revis in a ditch come 4 p.m. Wednesday, Joe went from being sick to his stomach to wanting to jump out the window.
Joe simply cannot comprehend, not long after watching that eyerake of pass defense in 2012, one of the worst in NFL history, that the Bucs would throw aside at worst the second-best corner in the NFL.
Well, yes, the Bucs would do this to save 2014 cap money, but damnit, there are lesser players on the Bucs roster who could be painlessly dismissed and accomplish the same goal.
Woody Cummings of the Tampa Tribune claims the Bucs do have options to keep Revis and save cap cash.
By turning Revis' salary into a signing bonus, the Bucs would be able to prorate that amount over the final five years of the deal, thereby saving them about $9 million on the cap for this year.

The Bucs are actively trying to restructure Revis's contract but are making little headway, so they are also fielding offers for a possible trade.

Revis is due a $1.5 million roster bonus before the end of the week, so a conclusion to this matter should come shortly. But there is a way for it to end with the Bucs reducing their immediate financial commitment to Revis. It could even come as soon as today, but clearly the Bucs have some options here.
Joe sure hopes cooler heads prevail at One Buc Palace. That's one helluva hole the Bucs will be trying to fill if they turn Revis loose. A crater in fact. Just the thought of cutting the guy makes Joe want to heave.
First the new uniforms and now Revis being cut? Sounds like someone has a nice chunk of stock in Bristol-Meyers Squibb.