Johnny Scrutiny And Bypassing The Bucs
March 31st, 2014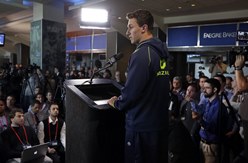 Joe continues to see recognized draft gurus pointing to Johnny Football getting past the Bucs and landing with the Vikings and grouchy Mike Zimmer with the No. 8 overall pick.
Has the world gone mad? Would Lovie Smith and his handpicked QB guru Jeff Tedford really pass on a chance to upgrade the most important position on the field with the most talented QB in the draft?
Yes, Johnny Football is under scrutiny following his Pro Day attended by Lovie Smith last week. And rightfully so. Former NFL scout and longtime draft guru Russ Lande, who doubles as a CFL personnel man, penned an intriguing look at the performance. (And that's what it was, a show.)
Taking every snap from under center, Manziel was quick and efficient in his drop back and on straight "drop and throw" passes, he did a good job of driving off his back foot and getting rid of the ball quickly. He threw 25 passes less than 10 yards and all were within the receiving radius of his receiver (in my opinion, seven of them were not throw to the ideal location, as they were either slightly behind or high). When it came to medium length passes between 10 to 19 yards, he was accurate on 14 of 15 passes, but of those 14 eight were not thrown to the ideal location. When Manziel threw the ball over 20 yards, it reinforced what I had seen on film and makes me confident that he is one of the three best deep ball throwers I have ever evaluated, along with RGIII and Jeff Blake.

On the day, he was accurate on 16 of 17 20+ yard throws and only missed the ideal location on three of those 16. It was remarkably impressive seeing him make outstanding 30+ yard throws down both sidelines while on the move, both rolling into his throw and throwing against his body. What surprised me is that Manziel often seemed to be throwing to his receiver and hitting him in the numbers, rather than leading receiver — on "out" routes especially. This may be an issue because many teams base their passing offense around throwing to a spot to lead the receiver, and if he does not improve in this area he will struggle within the confines of a traditional timing-based NFL passing attack.
Lande went on to peg Johnny Football as Minnesota material.
Overall, I came away impressed with the performances of both Evans and Manziel, but was not "wowed" by either one. I think the best way to sum up Manziel's performance is that if you already liked him, you came away convinced that he is the top prospect you thought you saw on film. However, if you came to the workout with questions about his arm strength, release quickness and accuracy, you may have felt a little better about those areas and will likely go watch more film to figure him out better. At this stage, my gut says Manziel will be drafted by the Vikings in the first round (they hold the 8th overall pick), and that Evans will be selected between picks 10 and 25.
As Joe wrote last week, Joe doesn't care about Pro Days. They're thoroughly insignificant when compared to what a prospect would/will endure in a private workout with a team.
But Lovie Smith said he cares about Pro Days and raved about Johnny Football's, and Pro Days do influence decision-makers for many teams.
The Bucs' quarterback situation ultimately will come back to Tedford. Joe believes Lovie told Tedford to give him a list of quarterbacks in the draft he could turn into strong starters. And Joe's confident the Bucs will grab the first one available, in whatever round that may be.