Johnny Football Slipping To The Bucs
March 8th, 2014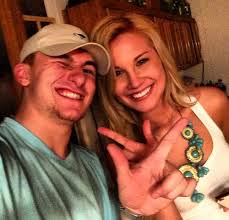 With the free agency dinner bell moving closer and closer, there are so many sensible directions the Bucs could go. That's what happens when a team is 4-12. There are more holes to fill than some fans would like to or want to admit.
The same goes with the draft. The Bucs could go offensive tackle, wide receiver, defensive end, and of course, quarterback.
In his last mock draft before Tuesday's dawn of free agency, otherwise known as Christmas in March, Joe's good friend, Justin Pawlowski of WHFS-FM 98.7, had a certain player falling that the Bucs simply cannot pass up. And that, dear readers, is none other than Johnny Manziel, aka quarterback Johnny Football.
7. Tampa Bay Buccaneers – Johnny Manziel – QB – Texas A&M
Commish's Comments: If any of the top players in this draft could slip, I think the prime candidate would have to be Johnny Manziel because teams picking with the top 5 selections would much rather play it safe than roll the dice on a "boom or bust" prospect. We all know the positives and negatives Manziel brings with him. The real question here is, what will the Bucs new brass do if Manziel is sitting on the board as the clock starts for the Buccaneers? This has nothing to do with publicity or selling tickets. The drafting of Manziel would simply be because Lovie Smith believes he needs more out of his quarterback than Mike Glennon can give him, and he believes Manziel can give that to him and win a lot of games. Any team that drafts Manziel must be committed to him 100% or it will not work. Lovie Smith got fired by the Bears after taking them to a 10-6 record. I'm certain he realized that it takes more than just a great defense to win and keep your job in the NFL. I also believe it will take a coach with job security to take the ultimate chance on Manziel. I do not believe any coach in the top 10 picks has better job security than Lovie Smith after the way the last 2 coaches and 5 years has played out for the Bucs. I know this might be hard for some people to fathom, but it very well could become a reality. Manziel is a talented guy who makes plays in and out of the pocket. If he is available with the 7th pick, the Bucs very well could take him and make him the face of the franchise. Uh oh!
The "face of the franchise," Johnny Football! Yes, the Bucs could do worse than having Johnny Football's likeness plastered all over the Tampa Bay area.
Bucs general manager Jason Licht and coach Lovie Smith both talked openly about the very real possibility of drafting a quarterback. Whether that means a guy like Johnny Football at No. 7 overall or a guy like Jimmy Garoppolo in the second (that may be a reach) or Aaron Murray in the fourth round, time will tell.
Joe's pretty sure Mike Glennon is going to have more company at quarterback this May, other than Mike Kafka.