Jason Licht Speaks On Joseph Release
March 8th, 2014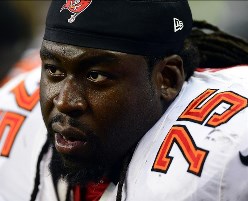 It is the first big move of the Jason Licht regime and it was a big one, when eight-year starting right guard Davin Joseph was released this morning. The Bucs didn't even try to rework his contract.
After the news, Licht released the following statement concerning his decision to part ways with one of the best community activists on the Bucs and an all-around good guy.
"Decisions like this are never easy when it comes to parting ways with players such as Davin," Licht said. "We thank Davin for his contributions on and off the field during his eight years in Tampa Bay and we wish him well in the future. Every decision we make during this time leading up to free agency is with the intention of improving our roster and building towards becoming a championship team once again."
So now one would have to think the Bucs will be big time in the market for an offensive lineman or two. To bank on Carl Nicks' return is dangerous. He has only suited up for nine games the past two years. Jeremy Zuttah can play both left guard, right guard and center. So at least the Bucs will be looking for either one guard and a center or two guards.