Is Michael Bennett The "Value" Pick?
March 7th, 2014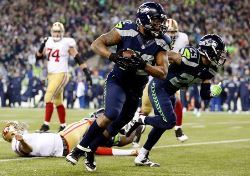 The Bucs are buying a defensive end this month because they're not buying Da'Quan Bowers and Adrian Clayborn are above-average starters.
That undeniable.
The sad thing here is the Bucs are desperate and must move fast.
Lovie Smith isn't going to risk going into the season without a front-line pass rusher. He's made that clear.
Because of Michael Bennett's age, 28, versatility rushing inside and outside, and being a left-side pass rusher, Joe thinks Bennett is likely a smarter choice than Jared Allen, 32.
Bennett is a left end. That's his preferred side. He's told Joe that directly, during his Buccaneer days and at Super Bowl media day in January. Allen plays the right side.
It's Bennett's left-side play that also helps make him more intriguing. Nearly all the top pass rushers in the NFL Draft rush from the right side. With Bennett, versus Allen, the Bucs would still have an opportunity to draft nearly any impact pass rusher and get him on the field a lot. Bennett's rushing ability inside on passing downs also creates more options for Gerald McCoy, and it can free up the left end for a guy like William Gholston or someone else for specialist duty. Then there's Lovie's old friend Julius Peppers, who may be cut from the Bears soon and sit on the market for a while, much like John Abraham did last year. Abraham signed with Arizona in July and had 11.5 sacks. Peppers lines up on the right side.
Joe, of course, doesn't know anyone's salary demands or private desires, but Bennett may very well by the "value" pick general manager Jason Licht says he covets. The problem is Bennett sure seems like he wants to be wined and dined and find the highest bidder. After all, he's got a fresh Super Bowl ring, and that can take the play-for-a-winner motivation away from a lot guys temporarily.
Joe suspects the Bucs won't want to wait for Bennett to make a decision, if they have another viable option (Allen?) on the table. Of course, the Bucs could always sign two premier defensive ends and draft offense, which would be an absolutely stunning series of events.