Is Left Tackle A Priority?
March 12th, 2014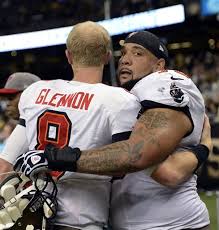 No, the media hasn't seen the fine print on the contracts of new Buccaneers DE Michael Johnson, TE Brandon Myers, CB Alterraun Verner and DT Clinton McDonald. It's unknown how much these signing will count against the 2014 salary cap.
On the surface, it seems those deals ate up about $21 million of the roughly $25 million the Bucs had available this season entering free agency.
Throw in new contracts for Jamon Meredith, Danny Gorrer, Jonathan Casillas and Eric Page, likely totaling around $3 million, and the Bucs don't have much room left. Maybe $2 million?
Now here comes the "if."
If the Bucs released Donald Penn, then they'll have a lot more money, about $7 million to play with. However, the Bucs would have to be brain dead to release Penn without a better player in the fold. You absolutely don't mess around at left tackle.
Yes, Joe's heard the rumors/reports of veteran Bengals free agent backup/sometimes starting tackle Anthony Collins being in the Bucs sights. But how can anyone be sure he's really as good as Penn? Collins has never started a full season. Penn is one of the NFL's top ironmen, having never missed a start since 2007.
Jeremy Zuttah could be on thin ice, and he's worth about $4 million in monopoly money. Darrelle Revis' ousting would free up $16 million.
Keep in mind the Bucs likely are wooing quarterback Josh McCown in person right now. He's going to command at least $2.5 million.
Money is an issue, much more than it was 20 hours ago. Joe has a hard time believing replacing Penn is a major priority this afternoon, given that the top left tackle talent in free agency is already gone. There's also the possibility the Bucs hold on to Penn and keep their options open to see whether they can select Penn's eventual replacement with the No. 7 overall pick in the 2014 NFL Draft.