Freeman Interest Heating Up In Oakland
March 15th, 2014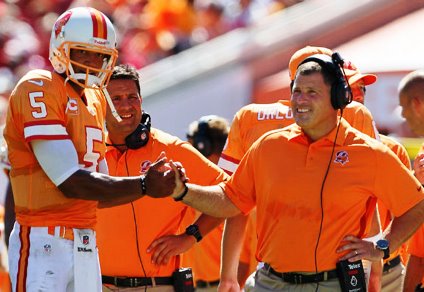 Joe's sure hoping it's all about No. 5 in Oakland. That can only help the Bucs' chances at landing everybody's favorite No. 2.
NFL Network insider/reporter Albert Breer is Twittering tonight that the mighty Raiders are considering signing sleepy, leaky Josh Freeman.
This is glorious news. Joe's wishing the best for Freeman, who hopefully can harness all of his immense talent and recapture the devotion he showed in previous Bucs seasons.
But more important, if Oakland is looking at Freeman, then that's a strong indicator they may not want to draft a quarterback with their No. 5 overall pick. Joe could see their potential twisted Raiders logic. The Raiders' coaching staff is on thin ice, and perhaps ownership doesn't want to draft a quarterback that could become a QB a new regime rejects. There are can't-miss type players at the top of this 2014 draft. So perhaps one of them is perceived as a safer, wiser bet.
If the Raiders pass on a QB, that increases the odds the Bucs land a top quarterback prospect. Please don't try to tell Joe the Bucs can/should wait on that if the right QB is available. If not now, then when exactly should the Bucs draft their next franchise QB?
Hopefully, Benn'd Around architect and Freeman supporter Greg Olson, the Raiders offensive coordinator, is doing one hell of a sales pitch. Joe would love to see what Olson does with Freeman minus the don't-scramble shackles placed on athletic Freeman in 2011 and 2012.