Drafting A QB In First Round
March 20th, 2014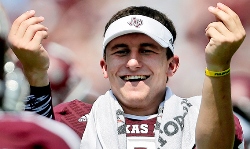 Joe has to apologize. He's a bit late on this, not finding it until after the Bucs signed starting quarterback Josh McCown. But this video is still relevant in Joe's eyes — and as a bonus it features hottie Allie LaForce.
Doug Gottlieb and LaForce, co-hosts of "Leadoff," which you enjoy weeknights on the CBS Sports Network, discuss the pros and cons of the Bucs drafting a signal-caller with the No. 7 overall pick.
Yes, it is a bit dated, but you can still gawk at LaForce and their some of the takes remain current.