Do You Like Your Cornerbacks?
March 21st, 2014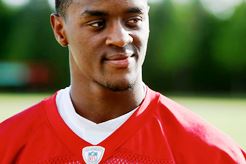 With the addition of veteran cornerback Mike Jenkins yesterday, Joe started thinking about the state of the Bucs' crop of cornerbacks.
Yeah, it's early, but are they deep enough or good enough? Here's a look:
Alterraun Verner: Replacing Revis is how he'll be judged, like it or not.
Johnthan Banks: Go-Go Gadget looks promising but has a lot to prove.
Mike Jenkins: Former Pro Bowler took a small step toward recapturing that form last year in Oakland.
D.J. Moore: A four-year Lovie man in Chicago. Plays nickel. Cut midseason from Carolina last year.
Leonard Johnson: Doesn't have the speed or quickness necessary to be consistent.
Danny Gorrer: Strong special teams player best known for costly drop against Philly in 2012.
Rashaan Melvin: Overhyped undrafted Schiano-Dominik man. Athletic big body was hurt all last season.
Deveron Carr: Better than fellow rookie Melvin last year. Stayed healthy. Contributed on special teams.
Anthony Gaitor: Final year of 2011 rookie contract. Has never impressed.
Bobby Felder: Leslie Frazier practice squad guy cut by Vikings and signed by Bucs in October.
How these guys will fit in to Lovie's cover-2-heavy-system is unclear, though Verner is said to be tailor-made, and Moore comes Lovie approved.
Joe has to conclude the Bucs need another quality body. Perhaps Lovie and Jason Licht are eyeballing a cornerback in the draft? Joe surely could see the Bucs going offense in the first two rounds and jumping on a corner or a project pass rusher in the third round.