Defensive End Market Stabilizing
March 10th, 2014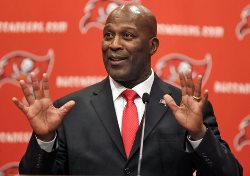 Word from Seattle media says former Bucs sackmaster turned Seahawks sacks leader Michael Bennett served his team up a hometown discount.
Bennett's contract is said to be for $28.5 million over four seasons, with $16 million guaranteed. That's good news for the Bucs, especially after the Vikings served up bigger cash for production-challenged Everson Griffen.
NBC Sports reported Bennett had two larger offers but chose to stay put. (Damn, and to think the Bucs could have had Bennett this time last year for at least 20 percent less.)
Could free agent defensive end Jared Allen or Michael Johnson, the two remaining premier targets, really expect to see more cash than the versatile, young, proven Bennett? Joe doesn't think so. There could always be a bidding war, but Joe suspects $8.5 million a season is the likely ceiling.
That's good news. Joe was concerned the Bucs might have to shell out $10 million to get the proven edge rusher Lovie Smith says he needs ASAP.
Of course, there's no guarantee the Bucs get what they want, but Joe still sees Tampa as a perfect fit for Allen, if not the Bucs. Allen, like any player, wants to get in the Hall of Fame. And finishing his stellar career alongside Gerald McCoy in a system that will value and feature him has to be ideal.
Allen isn't perfect, but he should have a couple of good years left. And that's about how much time Lovie has to get the Bucs in the playoffs.