Davin Joseph Talks About Release
March 9th, 2014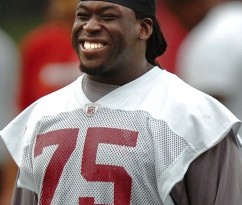 If there was a more standup guy in the Bucs locker room than Davin Joseph, someone please point him out.
It didn't matter, after a win, after a loss, after a practice, when everything seemed to be caving in on the team around him, Joseph always gave sober, reasoned answers to whatever was going on and often harshly critiqued himself.
Off the field, Joseph was (and is) a model citizen for the good works (and large donations) he provides local high schools, Blake and Middleton high school in Tampa specifically. So when Joseph was cut yesterday by the Bucs, it wasn't as if they got rid of just anyone. The Bucs said goodbye to a guy whose investment in the community they want all players to emulate.
Yesterday, Woody Cummings of The Tampa Tribune caught up with Joseph who seemed as if he somewhat expected yesterday's news.
"Their house, their rules,'' Joseph said of the release. "There have been a lot of changes in Tampa the last couple months. … "I'm not really surprised because nothing that happens in this business is surprising. I just hope now that my time in free agency won't last long. I'm anxious to get out there and get with someone else and show them how I play. It's a new challenge for me, a new adventure.''
There are a lot of former Bucs who, after their playing days, could easily have moved back to their hometowns but chose to stay in the area. Derrick Brooks, Booger McFarland, Steve White, Anthony Becht and Ian Beckles are just a few of many who spring to mind that still to call Tampa Bay their home. Joe hopes Joseph joins that group.
Joseph often spoke on the radio about his close relationship with his mother, who he had living close to him in Tampa. A favorite Joseph story of Joe's was him sharing how his mom insists on being a value grocery shopper and having Davin (and his massive paychecks) accompany her to "the dollar store" to scope out deals on canned goods and other stuff.
In the meantime, the Bucs are now looking for at least two offensive linemen, whether in the draft or free agency. Next few days should be interesting.