Davin Joseph Released
March 8th, 2014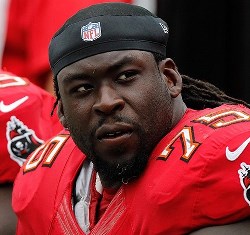 The Bucs released offensive guard Davin Joseph today. Joseph, a former first round pick by the Bucs, was on the wrong end of 30 and with his high salary became a roster casualty, reports Rick Stroud of the Tampa Bay Times.
The move saves considerable cash under the salary cap. Second, of course, is real cash. The Bucs now have some $24 million to play with before they reach the NFL-mandated salary cap for the 2014 season.
The release of Joseph is eye-opening but not surprising. Joe's hunch is Joseph or his agent weren't willing to budge much on reworking his salary, thus his release. Though Joe is a Donald Penn kinda of guy, he should be very concerned about now.