Bucs Sitting On $16.2 Million
March 25th, 2014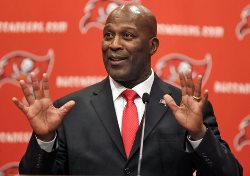 The spreadsheet geeks and number crunchers at ESPN have communicated with Bucs beat writer Pat Yasinskas, and it seems Lovie Smith has work to do in order to reach his stated goal of spending all available nickels.
Per today's Twittering by Yasinskas from the NFL Owners meetings in Orlando, Team Glazer has plenty left in the company vault. Following the Jeremy Zuttah trade, the Bucs are now $16.2 million under the salary cap.
Subtract at most $7 million to pay 2014 draft picks, and the Bucs can entice DeSean Jackson have plenty to pounce on quality talent that might land on the open market.
Yes, it happens, especially with offensive linemen and, um, future Hall of Fame cornerbacks in their prime. Good players sometimes get cut after the NFL Draft, or after June 1, or late in training camp. Others wait to sign. 
Bucs general manager Jason Licht knows that very well; John Abraham racked up 11.5 sacks after signing with Licht"s Cardinals on July 25. Davin Joseph could be another example. Somebody's likely going to get a great deal on a guard when Joseph eventually signs.