"Anxious To Get Him On The Field"
March 26th, 2014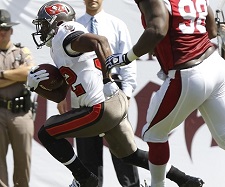 Spoken like the hardcore defensive head coach that he is, Lovie Smith's eyes lit up this morning when he talked about second-year Bucs running back/Olympic sprinter Jeff Demps.
Lovie sat up in his chair at the NFL Owners meetings talking about the fits Demps could cause defenses.
"When you have that type of speed, you have to just find ways to use that," Lovie said of Demps. "If you're the fastest guy in the league, as a wide receiver, if you line up on the outside and I'm a cornerback, I know that. They know who the fastest guy in the league is. You [don't] have to learn a lot of routes. Go route. Take off. You know, any type of slang term you want. A guy can do that if he's that fast.

As a running back, you say [of Demps] why not just put him back there and let him get the ball and see if he can make somebody miss? And if we block it well and there's a hole, something good might happen.

"As a returner, if he does get the ball, you can see that speed being able to do something thenre, too. He's one player I'm anxious to get him on the field and just see for ourselves. Because there's not a lot of video that we have on him to see what he can do."
Again, of all the Buccaneers offensive players Lovie spoke of, Demps might have gotten him most excited. And Lovie didn't seem concerned that Demps would take off to run track.
"I've never had the chance to coach the fastest guy in the NFL," Lovie said. "We talked about his commitment to football. He loves track, but he considers himself a football player. And he's anxious to get started with whatever position we ask him to player, whether it's running back, wide receiver, returning kicks.

"We want to see what he does best."
Joe's not as excited about Demps as Lovie is. Demps is coming off groin surgery and he's a project. But he does fit into the "speed in space" craving of offensive coordinator Jeff Tedford.
During the few nice plays from Demps last year, Joe, too, was taken by what Demps' kind of speed can accomplish, if used effectively.