Time To Sniff Asante Samuel
February 6th, 2014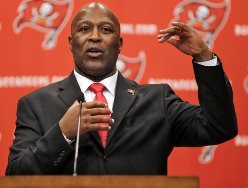 Former rockstar general manager Mark Dominik seemed to enter every NFL season with questionable cornerback depth.
There was nothing behind the unreliable Adderall Twins in 2012, and last year the Bucs started training camp with two rookie corners (Rashaan Melvin and Johnthan Banks), plus often overmatched Leonard Johnson, inexperienced Danny Gorrer and versatile yet undersized (5-6) veteran Michael Adams behind injured Darrelle Revis. Joe hopes Lovie Smith and new GM Jason Licht aren't so brave.
That's why Joe's intrigued by the immediate free agency availability of veteran ballhawk cornerback Asante Samuel, who was cut by the Falcons yesterday. He was a proverbial "salary cap casualty." And the Falcons really did him a favor by putting him on the open market right now.
Yes, Samuel is coming off a bad season and he's 33 years old. That's hardly a good combination. Joe can't say with any certainty what Samuel might have left in the tank. But Joe can be certain that Samuel won't cost a load of cash and Joe knows the Bucs need quality cornerback depth.
Will the Bucs bring him in quickly for a workout and a chat? Joe's not lobbying to sign the guy, but he's surely worth a quality sniff. It might even be great practice for the new regime to hone its interview/courting skills.
Samuel has played 11 years for three coaches: Bill Belicheat, Andy Reid and Mike Smith. He knows what a playoff team is supposed to look like and probably would appreciate playing for Lovie Smith. And what cornerback in his right mind wouldn't want to join the Bucs' star-studded secondary?
Joe's curious to see whether the Bucs front office is linked to any interest.