"They'll All Flourish Now"
February 17th, 2014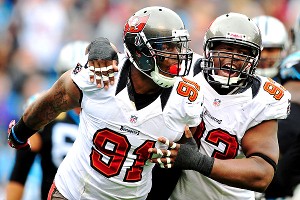 Warren Sapp was his usual opinionated self during Super Bowl festivities. Joe got a chance to sit down with Sapp in frozen Newark to talk about a variety of topics. Joe's already shared Sapp's Hall of Fame takes, changed Xs-and-Os view of defense, and Sapp's thumbs-down on Mike Glennon.
Today, Joe is sharing a Sapp take on the Buccaneers' pass rush.
Sapp was adamant that Greg Schiano's defense was a disaster and the Bucs' current defensive ends will improve the minute they arrive for the 2014 season in April.
JoeBucsFan.com: On a conceptual level, as well as Gerald McCoy has played as a 3-technique and as much as you've praised him, if the guys on the edge of him aren't getting sacks and pressuring quarterbacks, does that just say they're not good enough?

Warren Sapp: No. The system wasn't good enough. The system didn't match what they were doing. Gerald McCoy in spite of what they were calling on defense. The system is there now. They'll all flourish now.

Joe: What do you expect from Lovie and (Joe got cut off)?

Sapp: They'll all flourish now. All of us played well, Simeon Rice, Greg Spires. All of us played well. All of us. It had to be a system that says, 'I'm going to trust everyone around me.' And that's what they'll have with Lovie. Thank God.
Sapp absolutely would not talk specifics about Adrian Clayborn, DaQuan Bowers and friends. Sapp's mindset was that things were so mangled and bungled by Schiano along the defensive line that there's nothing to say.
Joe sure hopes Sapp is right, though Joe's hardly confident in the Bucs' current crop of defensive ends.
Lovie will deliver his initial verdict soon after the free agency bell rings on March 11. How stunning it would be if the Bucs did not add an established and dangerous defensive end.