Special Teams Focus Could Reel In McManus
February 28th, 2014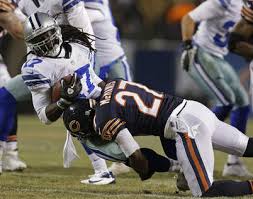 Lovie Smith has a huge focus on special teams. In fact, they are key to Lovie's weak-offense formula for winning 10 games in a season.
As part of Joe's continuing look at free agents that will help replace at least half the current Buccaneers, one of the Bears' best special teamers (not named Hester) could be a Tampa Bay target when the free-agency bell rings in 11 days.
Lovie and the Bears traded with Houston for cornerback Sherrick McManis just before roster cuts in August 2012. A handful of weeks later, Lovie was glowing about the third year player, saying how his standout special teams play was what the Bears hoped for, and Lovie was clear that McManis was "coming along" well as a corner.
Lovie got fired after that 10-win season, but McManus, who was a originally a fifth-round draft pick, survived the regime change and the Chicago Tribune just this week labeled him the Bears' best special teams player. The Tribune predicts he'll stay in Chicago but will test the free-agent market first. 
McManus, 26, seems like the kind of guy Lovie would want versus, say, Rashaan Melvin and Anthony Gaitor, current Bucs backup cornerbacks coming off injury. McManus is established, experienced and healthy. Those guys are question marks.
No, this would not be an acquisition that would push the Bucs over the top and make happy waves across Tampa Bay, but it would represent the kind of "value" upgrade Jason Licht has referenced.