Sammy Watkins Seems To Like The Bucs
February 18th, 2014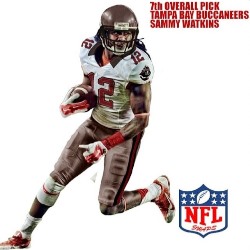 Now roughly three weeks from the NFL free agent dinner bell ringing on March 11 at 4 p.m., no one short of Houston is certain who they will draft in the first round.
There are seven positions that Joe could see the Bucs drafting with the seventh overall pick (or before). That's not to say Joe believes the Bucs should go all those routes, but Joe wouldn't fall over backwards on the night of the first round if Joe heard NFL warden commissioner Roger Goodell go one of those directions.
It seems there is one guy who is openly campaigning for Bucs general manager Jason Licht to grab at No. 7 (or before): Sammy Watkins. Yesterday on his Instragram account, the Clemson wide receiver posted the graphic you see above of him wearing a Bucs uniform. (He also has a graphic of him wearing Rams gear.)
That's a subtle hint. Is it? Perhaps Watkins is part of the Mike Glennon Mob, having seen Glennon up close and personal in those vaunted ACC wars when Clemson locked horns with North Carolina State?
Watkins, from everything Joe has seen on the field read, is a special, special player. But the draft is so deep with wide receivers this spring, perhaps the Bucs could get really good value later in the draft at wide receiver, and address another area at No. 7 (or before)?
Still, Vincent Jackson, 31, good as he is, isn't getting any younger.